The four best ways for upskilling of your employees
Af camilla / May 15, 2022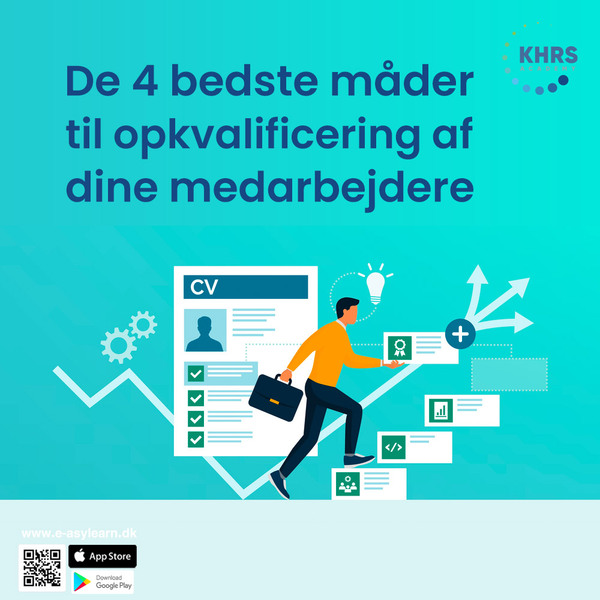 Here you get four methods for upskilling of your employees – especially new employees.
This post is also for you who are working with unemployed and job seekers and see upskilling as an open door to the labor market.
You are probably familiar with some of the methods in advance, but it may also be that you get surprised that there are several ways to do upskilling. Our experience is also that many companies and public bodies always are booking the same courses they are used to, without uncovering the many options that exists out there.
This is also a reminder that the learning outcome are different, and what works for one employee, maybe doesn't work for another employee.
Therefore, we want to present you to 4 methods and what each of them can do, and in which connections it makes sense to use them. It will give you the best prerequisites to get the most optimal upskilling of an employee or an unemployed jobseeker.
The four methods for upskilling
The four methods for employees are listed up here. We are going through them one by one and looking at advantages and disadvantages of them.
1.The traditional classroom-based teaching.
2. Peer-to-peer training
3. Interactive learning – gamification and role play.
4. E-learning – online upskilling.
The traditional classroom-based teaching
This is the classical method and the most used. Teaching in a room with professionally competent teacher. The traditional way by physical classroom- based teaching is always a combination of blackboard- teaching presentations from the teacher and exercises often in groups or via assignments.
The advantage by this method is that most course participants get an insight into theoretical subjects and tools and often also get their new knowledge tested trough practical assignments.
The disadvantages by the classical method can be:
– It is difficult to reach the same level for all participants and some will not get the intended learning outcome by this method.
– It is expensive and especially if more employees must be registered.
– It is not all workplaces that can do without one or more employees at the office.
Advantages:
– The practical exercises usually work for most people.
– Many are familiar the classical method and it gives a sense of security.
Peer-to-peer training
This is also a traditional method, which most companies make use of, and that is not without a reason.
When you match a new employee with an experienced employee a new learning space occurs at once, where one party acquire new knowledge and skills. This is also a unique possibility for the experienced employee who can reflect on their own knowledge and learn more about their field of expertise.
It is most companies that make use of this method in the training of new employees, because new employees get an insight in their new work assignments and workflows from the company's own specialists.
The advantages are clearly that the new employee get the best prerequisites and onboarding process in the company.
The disadvantages are that it is enormously time consuming and removes the experienced employee away from other important tasks. You should therefore consider to what extent you use peer-to-peer training and how many resources you want to spend on this.
Our best advice for you
Our best advice is to combine peer to peer training with other upskilling methods for example online courses, which we will elaborate further down in this post.
It is in fact a good way to give new employees the best prerequisites, while at the same time avoiding wearing down key persons in your company.
Interactive learning – gamification and role play
This method is here to stay, and we have seen how online learning environments are gaining ground in Danish companies, and that is for a reason. This is a learning method where your employees interact with others in a virtual learning environment where they get the opportunity train process-related skills.
There are two ways to use interactive training:
Role play and gamification
– Role play gives you the possibility to test methods and theories in practice.
– Gamification is when you learn via gaming elements in your training. It is quizzes and games in the virtual learning environment, that helps the participant to understand the theoretical material.
The advantage of this method is that is really rewarding, and gives a large learning outcome, because the employee is involved, and must actively relate to the subject, answer tests and quizzes and gets the result at once. It also makes it possible to practice some subjects more than others if the employee answers incorrectly on certain subjects.
There are not many disadvantages, but this form of learning can't stand all alone. There must be a theoretical base in addition to this method, and therefore it is obvious to combine it with course before, which lead us towards the last method.
E-learning – online upskilling
This method has especially fulfilled its potential within the last couple of years and especially because of COVID 19. E-learning is here to stay and that is for obvious reasons. The most important reason is clearly the logistics. Your employees can take online e learning courses anywhere also at their own office and doesn't need to take a full workday out of the calendar.
E-learning is also a good learning tool, because you can register your employees just when they need it. You must not wait for available dates or worry about logistics, and you get your employees upskilled, when they want it.
This also means that the course participant participates when they are most motivated, and this has a great influence on the learning and will be used in practice immediately.
Another huge advantage is the economy in e-learning courses. It is often way cheaper than physical courses and, in that way, you can upskill more employees within the same course budget.
There are not many disadvantages by E-learning, as the course providers have understood to make exciting and interactive courses that involves the employee.
There are always employees that prefer the classical method, but with the right e-learning courses that increases the learning and interact with the course participant, many would prefer to be able to take an important course, just when ever it fits them and acutely if that is the case.
KHRS helps municipalities and companies with the upskilling
This is our suggestion to the 4 best ways to upskill your either new or existing employees. We hope that the different methods have inspired you to proceed with upskilling. We ourselves have a great experience with helping municipalities and companies with the upskilling of new employees and especially unemployed and we can guarantee that a good upskilling is the best investment you can give a new employee or an unemployed job seeker.
It opens new doors and opportunities for all parties.
A new e-learning concept developed by KHRS
At KHRS we have recently launched a new e- learning concept, which consists of online courses, that have a focus on upskilling to several industries.
It is especially targeted non-Danish speaking unemployed, who have a need of upskilling, and which gives them a unique possibility to get a foot into several industries, with our courses.
The courses are translated into several languages and make use of interactive learning and gamification, which increases the learning process both underway and in practice.
Read more here about our unique e-learningskurser offered in multiple languages.