Our opinion is that integration on the labor market is tied to development and improvement of competences. Therefore, we see upskilling as a deciding factor of success, when it comes to employment of citizens who need special support.
The base idea is that citizens with the correct tools of upskilling can be a great use for the society and labor market.
It is important to us that the citizens feel that they are a part of something meaningful. In our courses, we focus on inclusion, and therefore we have a strong common ground to regard citizens as active participants, both in the specific course and in society.
Package deals – clarification, competency development and employment agency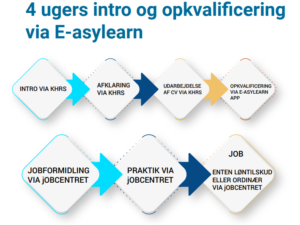 See the course that is intended for citizens that are ready for activity, but with lighter challenges.: 4-ugers forløb KHRS

Download the printed version: 4-ugers forløb print version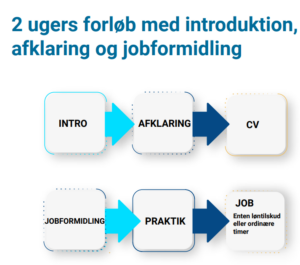 See the course that is intended for citizens that are ready to work but need help with clarification of competences and CV-making.: 2-ugers forløb

Download the printed version: 2-ugers forløb print version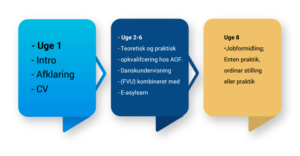 See the course, that is intended for immigrants that need help with clarification of their competences and industry directed upskilling.: 8-ugers opkvalificeringsforløb print version
Download the printed version: 8-ugers opkvalificeringsforløb KHRS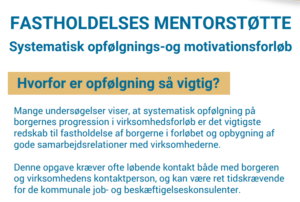 See the course that is aimed at retention of immigrants in a company with help from a mentor: Fastholdelse og mentorstøtte print version
Download the printed version: Fastholdelse og mentorstøtte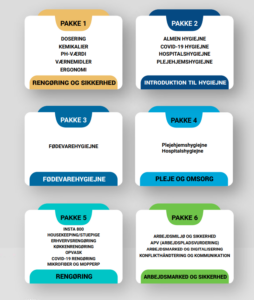 See the course, that is intended for municipalities, job centres, and other actors who are working with upskilling of unemployed citizens: Sammensæt din egen kursuspakke KHRS
Download the printed version: Sammensæt din egen kursuspakke print version